Gujarat to Mumbai 217mph train will cut journey time from eight hours to three and is funded with a low-interest Japanese loan.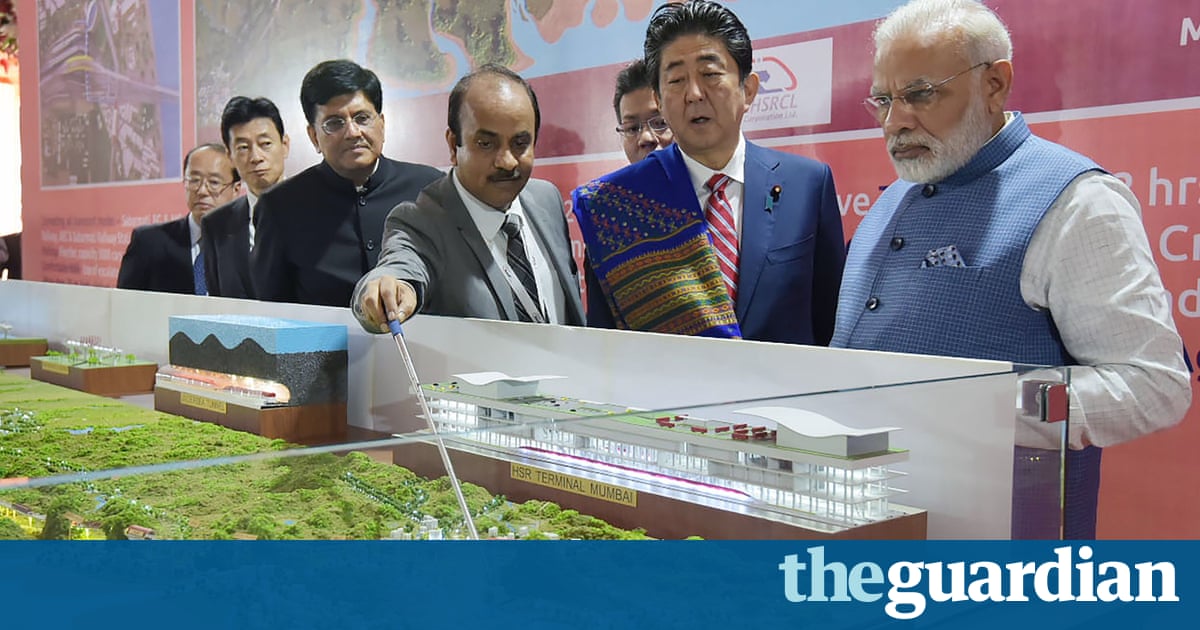 This excerpt from an article in the Guardian (see link below) gives an interesting update on the developing relationship between India and Japan:
India's creaking, colonial-era railway system is preparing to take a giant leap forward as the Indian prime minister breaks ground on the country's first bullet train project.

Narendra Modi laid the foundation stone for the high-speed line on Thursday during a visit by his Japanese counterpart, Shinz Abe, to the western state of Gujarat.

This is the new India and the flight of its dreams is endless, Modi said at the ceremony. The bullet train project will bring speed and employment. It is human-friendly and eco-friendly.

The high-speed line, which the government aims to launch by the 75th anniversary of Indian independence on 15 August 2022, will run from Ahmedabad, the Gujarat capital, to the financial hub of Mumbai.

Indian officials say the train will have a maximum speed of 217mph (350km/h), more than twice the speed of the country's current fastest train, which runs from the capital, Delhi, to Agra at a comparably sluggish maximum of 100mph.

The Shinkansen model train will cut the 316-mile journey from Ahmedabad to Mumbai from eight hours to around three.

More than four-fifths of the projects $19bn (14.4bn) cost will be funded by a 0.1% interest-rate loan from Japan as part of a deepening economic relationship that both countries hope will act as a bulwark against Chinese influence in Asia. Japan has shown that its a true friend of India, Modi said on Thursday.

The fast rail is also significant for the Modi government, which made the bullet train a key part of the modernisation agenda on which it campaigned at the 2014 elections. It also claims the project will create about 36,000 jobs.

India is reportedly considering another six potential high-speed rail corridors, including one connecting Mumbai and Delhi. But the former chairman of India's railway board Vivek Sahai said that the financial investment required to build such fast rail meant it was unlikely to phase out traditional trains any time soon.

India runs more than 10,000 trains each day, which carry the equivalent of the population of Australia you cant just discontinue them, Sahai said.
Read more: https://www.theguardian.com/world/2017/sep/14/india-starts-work-on-its-first-bullet-train-line
Recommended Reading